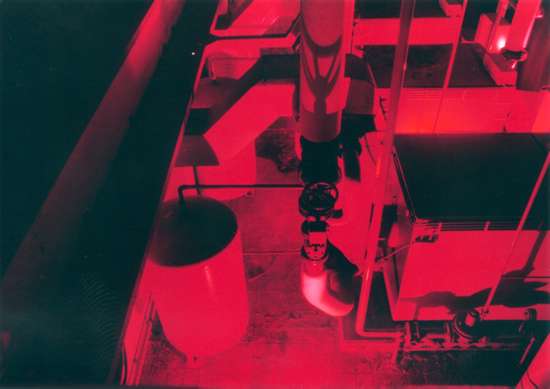 | | | |
| --- | --- | --- |
| Simone van den Heuvel | Stoke-cellar | 15 x 7 x 7 m |
In the "Stoke-cellar", as a spectator you enter a completely darkened space of 15 x 7 x 7 meter by walking on a footbridge where light (streetlight) and projections go up around you. There is a sound that might remind you of burning stoke-boilers that are not visible at the moment. The noise increases and so does the streetlight.

There is a change of light and projections after about 2,5 minutes. The light that was visible extinguishes and on the right side of the footbridge you are able to see a deeper space where red lights slowly go up and make three stoke-boilers visible. The noise is still increasing, almost unnoticeable.
It is possible to walk around the corner on the footbridge and watch the deeper space from an other point of view.
After another 2,5 minutes the projections and the light downstairs extinguishes and blue lights go up, spread over the ceiling, connecting the footbridge and the deeper space. The blue lights reflect in the darkened window parallel to the footbridge what seems to enlarge the space, in an other direction this time. The noise is loud now. This situation lasts for about 6 minutes.
You can leave the Stoke-cellar by continuing the footbridge to the end.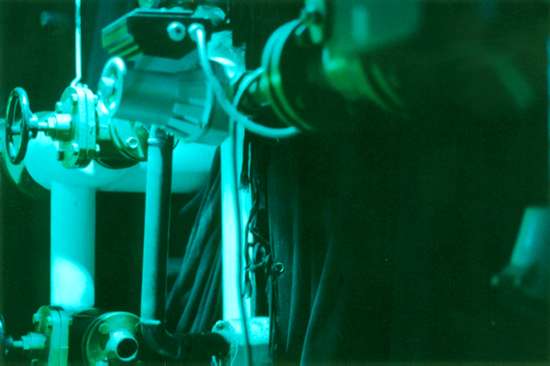 | | | |
| --- | --- | --- |
| Simone van den Heuvel | Stoke-cellar | 15 x 7 x 7 m |